Or at least I should be…
I have one big knitting addiction. Briar Rose Fibers. I CANNOT no matter how resolute, walk past, enter and exit or otherwise glance at their booth at ANY festival without buying something.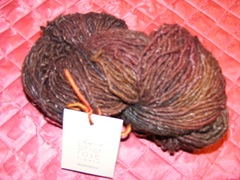 In fact, they know me on sight as 'the birthday lady' because I always spend my birthday cash at their booth at the Great Lakes Fiber Show. (and it doesn't matter what festival they see me at; this nickname sticks..)
This has resulted in quite a collection of Briar Rose yarns, patterns and one very nice ceramic button.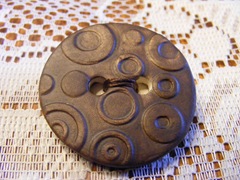 Thus far, how many projects have I made with my lovely Briar Rose Yarn? one.. ???oh wait.. you mean to say how many projects have I actually finished? well.. none..
There was that skirt I made with some of their Sonoma.. but it just wasn't a good match. So it went in the frog pond.
Now.. now I have NEVER EVER committed so much to a project using the oh so lovely Briar Rose Yarn that I have actually CUT the yarn part way through a skein.
Tonight.
That
all
changes.
Tonight … I am digging in.. I am cutting the yarn.. there is NO TURNING BACK!
OK.. well I am off to get some calming tea or something.. I wasn't even this nervous when I cut my first steek!
Anyone know about a 12 step program for Briar Rose Yarns?