Je voudrais remercier Jocelyne Bélanger du groupe Les tricotineuses, de sa traduction du Pinwheel Blanket modèle dans le Français. Il est maintenant disponible pour l'achat dans la galerie de modèle ! Appréciez !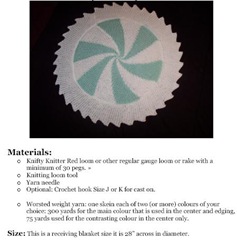 I would like to thank Jocelyne Bélanger of the group Les tricotineuses, for her translation of the Pinwheel Blanket pattern into French. It is now available for purchase in the pattern gallery! My 5 years of French class were just no match for this task! So I really appreciate Jocelyne's help!
I have also updated the charts to make them larger and clearer, and to correct the error in the border chart. The errata is available here. And the English version will have the new charts soon.
Merci Jocelyne!