Two new online knitting magazines that have caught my eye!
The first is METAPOSTMODERNknitting (I am a sucker for anything that is meta… metacognition being my favourite!)

'MetaPostModernKnitting.com is a celebration of fashion-forward and avant-garde knitting.' A great magazine filled with fashion forward patterns and trend reports and tips to keep the fashion conscious knitter informed.
The second is Popknits.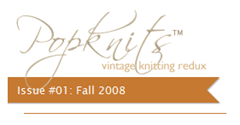 This magazine just started and is quite the opposite of METAPOSTMODERNknitting! 'Popknits specializes in vintage knitting made modern.' Here they look back to designs from the past and update them for the modern knitter!
That ought to keep those of you who knit 'with', quite happy for a while!
Enjoy!