There has been a lot of talk about modular knitting and mitered squares on the KWON forums this last week. It made me realize that I had neglected to post my Mitered Square Tutorial here! It was first published in the Summer Issue of Loom Knitters Circle this year and I hope you all enjoy it!
 How to Make Mitered Squares on a Knitting Loom!
I have had some fun with the mitered squares.. most notably my star travel pillow!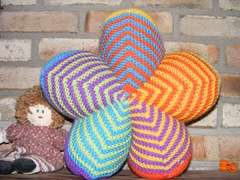 It is made on the Mini Wonderloom in extra small gauge from Décor Accents, which turns out to be just right for making mitered squares.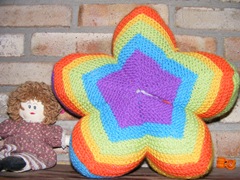 (The kids have played a little rough with it and it sprung a hole! I need to reseam it!!)
The new Loom Clips from Provo Craft are really excellent as well, as you only have to move the clip, slip the center stitches over them and keep working. No shifting of stitches involved!
So enjoy and as always if you have any questions… let me know!