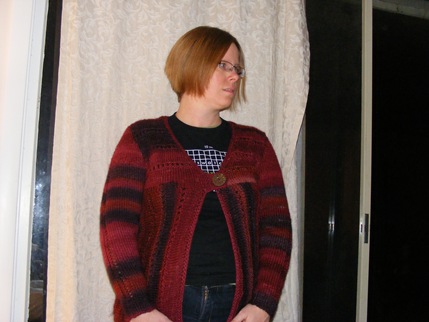 Not the best photo, but here she is! That's two sweaters finished for NaNoSweMo (National Sweater Knitting Month)!! Ok.. so I didn't start them in November.. but hey.. I did all 4 sleeves in November and a good portion of my sweater.. as well as knitting an entire intricately cabled sock!
That's pretty good for me!
The Specs:
Pattern: Eyelet Garter Ridge Cardigan by Ewe & I Originals. They don't have a website as of yet but they are employed at Miss Chickpea's Funky Fibers in Hudson Ohio. So you can contact them there if you want your own copy of the pattern!
Yarn: Sean Sheep Armytage, obtained at a sinfully low price from a Canadian Walmart (it is only distributed in Canada) with the help of a nice Canadian Raveler!
Modifications.. none.. absolutely none! I followed the pattern to the T! Though I might knit another tab on the other side so that the button is centered.. thinking about it.. Opinions?
Button: That is the Briar Rose button I purchased at Rhinebeck last year! LOVE IT!
This sweater was so easy to make! It went fast! I love it! It would be very simple to knit up on a knitting loom, provided you have the right gauge and # of pegs, which you should if you have an extra small gauge adjustable loom.