Recenty Debbie left this comment:
Denise,

Reading about Sharon and seeing Brian's sleeve bring up two questions for me. Do you always use the mattress stitch when putting your items together? If so, I'm guessing Sharon really helps accomplish this. Does she? Any recommendations if we don't have a Sharon of our own? A pressing ham maybe?

Thanks,

Debbie
Sorry it's taken so long to address these questions! I shall give it a shot!
As to 'Sharon' my dress form..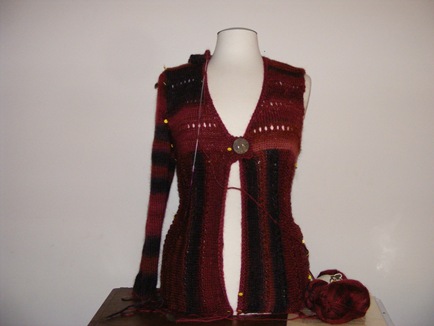 I really don't use her for seaming so much, though she came in handy for seaming the shoulder seams on this sweater! Mostly I use her for checking fit and actually I use her for blocking a bit..(only my sweaters as she is my size!) I got her on e-bay at a good deal and if you watch online sites and auctions you can come up with good deals on dress dummies and forms sometimes!
If you can't get a Sharon of your own you can make one! Duct tape and an old t-shirt are all you need!
Here are some tutorials on that:
Etsy Labs: Dress Form Tutorial
How to Make a Dress Form at E-How
Now for seaming!
I quite prefer the slip stitch crochet seam technique.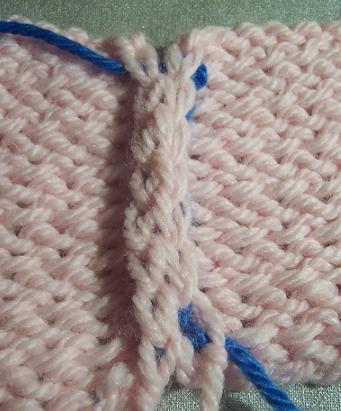 It's easy to use, and if needed can very easily be taken out! But it is not always practical, and does not always look good. It is best used with finer yarns in a situation where you are not so concerned if the seam is noticeable or not!
I did actually try this seam technique with the sides of Brian's sweater, the yarn being bulky made the seam look terrible. So I did switch to the mattress stitch.
The mattress stitch is a good one!
It makes a virtually invisible join even if you are using a contrasting color of yarn to seam with! It is quit easy, and takes a little practice. So make up some swatches and try it out! You can always pull it out and try again till you get the hang of it!
One note for loom knitters, this works better with a flat stitch than the twisty stitch that the e-wrap provides. Using the mattress seam on an e-wrap will not be quite as 'invisible' (as you might be able to see in the photo above)
Then there are the end to end seams.. they can be invisible too! It works great!
I have all these seaming techniques in individual tutorials in my tutorial page. Just click here! Seaming Tutorials