Ok.. so sorry it took so long to get this done! Where in the world did this week go? I really didn't mean to neglect you all!
So, I popped over to the random number generator site and rolled the dice..

That would be #12.. so the first winner is Chrissy.. I have a feeling I know what she would like.. seeing since it was the subject of her favourite post..
So a copy of Loom Knitting Pattern Book: 38 Easy, No-Needle Designs for All Loom Knitters (No-Needle Knits)
  book will be hers!
Send me an email at Denise at knitchat dot com, and give me your addy!
The second winner is…

Lucky #7  Elaine! If you haven't been to her blog and seen the BE U TI FUL jacket she knitted then you must go! She will win a loverly skein of Noro sock yarn.. I bet she will make something quite interesting with it!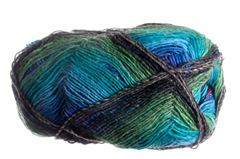 Again email me with your addy!
And just for fun.. winner # 3 is…

#23.. TJ! Who never wins… and procrastinates.. and hey.. aren't you glad you came back TJ?
For your efforts you will win…. one of the following…. you choose.. but don't procrastinate this time!
A copy of…
Casting Spells
Or
A copy of 24-Hour Knitting Projects (24 Hours)
Email me to let me know which one you want, and where to send it!
And please.. don't forget to vote for me to win the Super Bowl Party Pack! So stop over here and vote for me.. Sorka!!