We spent the last two days at our church district conference. The kids had fun! Azia did her musical King of the Jungle with the group from the Jr. Performing arts camp. They did a great job!
This is the first time the whole family has gone and stayed there. The little ones had fun too. Caleb had so much fun he was crying when it came time to leave!
He helped me to my toy drop though.. it's fun to have an accomplice!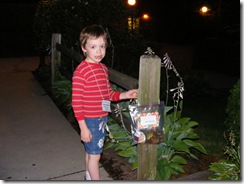 I hope someone finds this little toy and enjoys it!
(I did end up moving it.. I was afraid with the rain showers that have been popping up across this area that it wouldn't get found in a timely manner on this fence..)