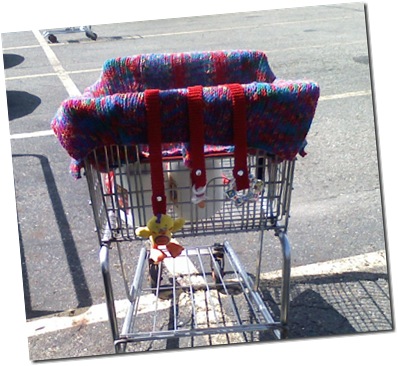 Introducing the Grocery Cart Cover Up pattern for the knitting board!
Baby grocery cart covers are a must have baby item! Grocery cart covers will help protect your infant or child from the germs and bacteria lurking in the seats and on the handles of shopping carts. This simple cover will work in shopping carts as well as restaurant high chairs, to add a touch of softness, as well as creating a barrier between your little one and potentially germy surfaces! The front of the cover also drapes over the handles of the shopping cart, providing protection for you as well!
Whether you're a new mom, an experienced grandmother, or just looking for the ultimate baby shower gift, this is the pattern you need! An easy pattern to follow, this is the perfect project for any beginner wanting to expand from making scarves, or an experienced knitter looking for an easy useful knit.
Included in the pattern are diagrams and schematics that will make it easy to translate the pattern into any other fiber craft as well. The handy  knitter or crocheter need only to make pieces to the size specifications given in the diagrams, follow the finishing directions to make a cover!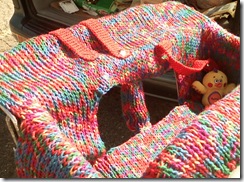 Materials
Knitting Board: Minimum 30 sets of pegs. (Knifty Knitter Series of long looms was used to make sample project.)
Yarn: Worsted weight yarn of your choice approximately 1200 yards of yarn needed. (See notes for further suggestions on yarn choices) A small amount of contrasting yarn for accessory straps.
Notions: Knitting Tool, Tapestry needle, crochet hook, 10-12 removable stitch markers or contrasting colored waste yarn to be used in marking the pieces at various points.
3 Snaps, or Velcro to secure post cover around the center post of the shopping cart or highchair. 3 sets of snaps or Velcro for accessory straps.
Optional: Row Counter
Strap made of webbing and a buckle for your grocery cart cover, so that you may use it, rather than the one already in the cart or high chair itself. *
Spool loom to create accessory straps.
Gauge: 3 stitches and 3 rows per inch.
To purchase online using PayPal you can click on the Add to Cart button below.
If you prefer to use another method of payment i.e. check or money order, simply email me at: Denise@knitchat.com and I will be glad to arrange this for you!
Grocery Cart Cover Up pattern for the knitting board
$3.00