Lets' see. This week I am trying to finish up the summer painting project, Preparing for a knitting guild picnic tomorrow night, preparing for a learn to knit class on Thursday, tonight Brian has a church board meeting that should be interesting.. next week school starts for us (they moved it up a week) and my birth parents are coming to visit! (YEAH!!!) and I am getting ready to have a garage sale Friday and Saturday… A nice quiet week right?
I think it's too quiet.. don't you? We need to throw in some excitement!
Some of you know that my husband is VERY allergic to bees. We carry a sting kit with us wherever we go. His Mom is highly allergic too it turns out, but it came on later for her. The older two kids have been stung and have not had very adverse reactions. The younger two had not.. well till today!
While I was out scrubbing big yard toys to get ready for the sale, Caleb, our youngest, was out playing. A BIG bee decided his lip was a good landing place.. I don't know what it was thinking, by the time I got to the screaming jumping crying panicking boy the bee seemed to be trying to crawl up his nose and didn't want to get off!!
It stung him, right on the upper lip… see: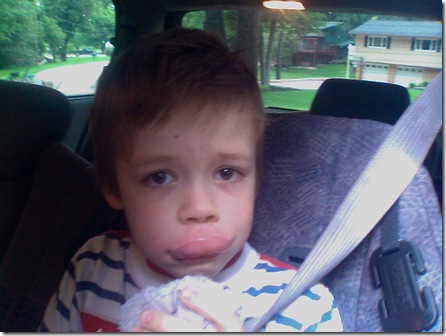 WOW! 3 Benadryl and a call to the doc later, and we were headed to Stat Care. Several ice packs, some steroids and a popsicle later it was about 1/3 this size! He is feeling much better now. 24 hours of Benadryl and 3 days of steroids are up next!
Seems I need to add doing battle with some bees to my list of things to do this week! Cause you know I am CERTAINLY not going to let Brian do it! I've had enough excitement this week, don't ya think?