First let me say, I 'know' the author of the book today..  Diane Gilleland, fondly known as Sister Diane. At least we have had an ongoing online friendship since she interviewed Isela and I a couple years ago for her podcast! (what fun!)
Since then I have definitely followed her blog and chatted it up with her here and there on Twitter and etc!
So I am especially excited to have a copy of her new book!! (since she has finally caught up with me ya know..)
Kanzashi in Bloom: 20 Simple Fold-and-Sew Projects to Wear and Give
  is a stunningly beautiful book!!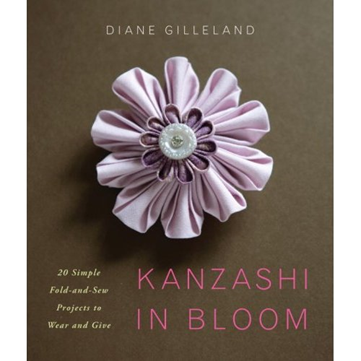 These flowers look so beautiful and intricate!  They look difficult to make, but that is totally not the case!
A few folds, a few snips, and a few stitches throw in a little hot glue action and you have yourself a beautiful flower!
See: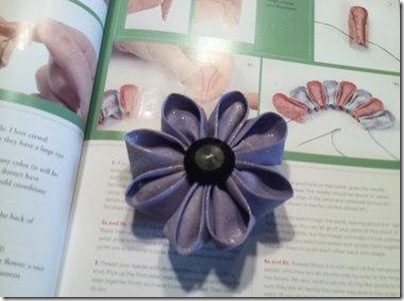 Diane includes some very clear written directions for making the flowers and projects. Along with the written directions are terrific photos of each step, reminiscent of the Japanese craft book style!
All in all this is one book that I would highly recommend! It is certainly staying on my shelf! Sorry!! There are only two improvements I would make.. Make this craft less addicting!! Grr, can't do it. Make the book spiral bound.. hmm.. I might be able to do that.. (they do that at Kinkos right?)
I did make a special flower to give away.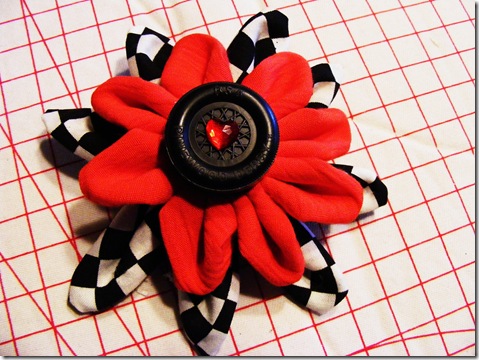 The stray Pinewood Derby wheel was in my button box! And being the mother of boys, naturally I had a little bit of checkered flag fabric hanging about.. so.. that is how this pin came to be.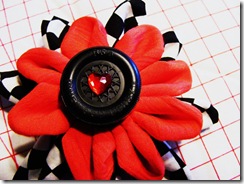 If you would like to win it, for yourself, or for someone else, leave me a comment on this post telling what color flowers you would make !! I will draw a winner on Monday after noon!