Well again I missed Finished Friday so you get two on Tuesday!
I finished a pair of Mrs. Roosevelt's Mittens for my mother.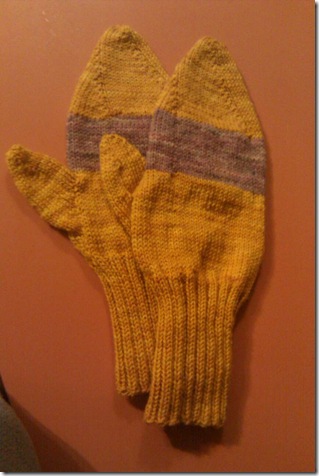 She is president of her local historical society up there in upper state New York, not sure of the exact historical society.. but that means she gets to rattle around in all those historical houses and such and will be going over to the Roosevelt's "cottage" next weekend. So I hope to pop these in the mail to her so she can wear them when she goes!
I was able to use the leftovers from the cashmere blend socks I made for Laura  at  Handwerks and since I didn't think I had quite enough to make the whole mittens with it I added a stripe of some of Scout's nice merino sock in there on the first mitten, which turned out to be a good idea!
The picture doesn't lie. One mitten turned out slightly larger than the other I am going to block that out so they match. (I hope!)
Then off to the post office with them!! The pattern is easy peasy, I might make myself a purple pair with a narrow yellow strip to use up the rest of the yarn!!