Today a little something different! I have a pair of books I picked up along the line that help with writing!!
First up: Just the Right Words: Over 400 Messages and Motifs for Cardmakers and Crafters
  This little book packs a punch! If you are looking  for a phrase, saying or something to write in a greeting card this book has something for pretty much any occasion. You won't find yourself at a loss for words with this little volume on your shelf!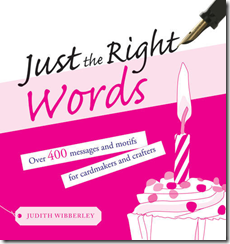 Next up is No One Cares What You Had for Lunch: 100 Ideas for Your Blog
A couple years ago I joined the Blog 365 challenge, It certainly was a challenge!  It was hard sometimes to come up with ideas fro what to write about. So I picked up this book. It's a great little book full of ideas to jump start your writing!
So if you are having a little 'bloggers block'  you might want to pick yourself up a copy!