Ok details details! The blanket is a little 26×26 baby blanket for a friend's new addition! It was also my Olympic Knitting though I missed finishing it by a couple days.
It was cast off on Wednesday night! I have a few little ends to weave in and such but other than that it is finished!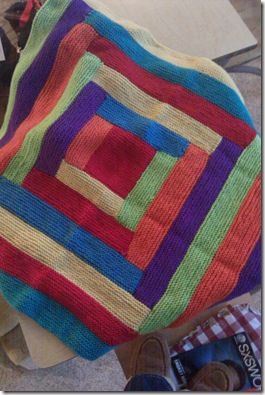 It is the log cabin pattern from Mason Dixon Knitting. Easy peasy!! I had started another blanket in other colors but they were vetoed as not being baby boy colors.. but hey they go well with my couch so I might just make a full size blanket!
Next on my list, and already cast on I am reviewing and tweeking the pattern for my O'Reilly hat. It is a needle knit pattern and I am hoping to have it  tweeked  and available next week! Then I might even tackle working out larger sizes for it!
After that what do you think? A tutorial for making log cabin squares on the knitting loom? The only problem with that is if you do it like I did you need a BIG loom.. but if you make individual squares for a 'quilt' like blanket.. that could work! We'll see!