Last night Brian and I went to the opening event at  new Office Space Coworking  site in down town Canton. It's nice! If you are a person who works at home or needs office digs in the downtown area then this place is for you!
As we were leaving we came across a knit hat lying on the street.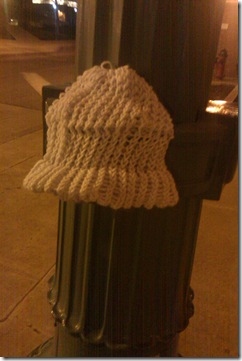 I surmised, and Brian agreed, that it was a loom knit hat. Minutes before, I had seen a woman walk by pulling a suitcase behind her.  I think that she dropped it I also think she was homeless. When we turned the corner she was far off, farther than earshot. So we put it up there on the post. Perhaps she will find it, or someone else who needs it will find it.
All in all a cool little find! Of all people to come across it, go figure!