What started as somewhat of a joke, has blossomed into the mother of all 'White Elephant' gift collections. In  Regretsy: Where DIY Meets WTF
, author April Winchell shares her collection of the finest failures ever found on Etsy..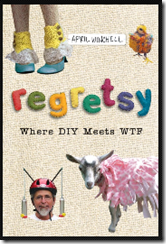 A chicken poncho. A painting of a corn dog. A clock made out of an old "mostly clean" cheese grater. All this and more await you in the pages of Regretsy, a collection of crafts gone wrong. Separated into categories such as Décor, Pet Humiliation, and Christmas, Regretsy showcases the worst of the worst. 
If you like snarky commentary, and bad crafts, then Regretsy is the book for you.