So, I the not-a-sock-knitter am planning to start a pair of socks just for knitting while in lines at Disney.  I love knitting socks in line, it just looks so cool and people are always intrigued. Also they are a nice small project that is portable.
When today's book was offered to me I thought ok, I'll take a look.. well.. I did and I am in LOVE!!!!   The Sock Knitter's Workshop
by Ewa Jostes and Stephanie van der Linden is terrific! It's like a buffet of techniques that you can mix and match to make socks!!!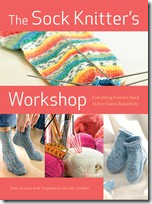 Anyone who knows me as a knitter, knows I love interesting construction in knitting. So this book is right up my ally! There are like 13 different heels, 7 different toes, 5 cast on methods, toe up cuff down if it is a sock knitting technique that has been invented… it's in here!
Of course there are also some really nice patterns..
Like this…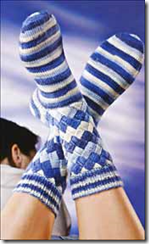 and this….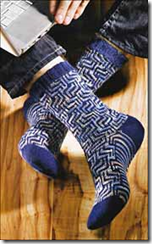 and this..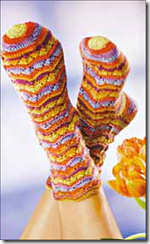 oooh those are crazy fun looking..
So many sock options so little time. hehe or well in my case I might have time in those lines!!
Disclaimer: A copy of this book was provided by the publisher