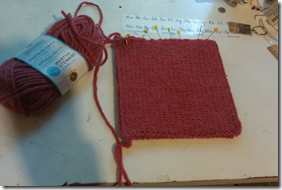 Well actually this one will be 2 of 9. I am planning out a little introductory project for newbie loom Knitters. Designed to get me to stop needle knitting for a bit to continue to rest my left thumb.
So far, it's almost working
So this will be one square for a blanket. Having been inspired by the "Hexapuff" craze on Ravelry, I thought I would work on a bit of a loom knit version.
The yarn I used for this square is the new Martha Stewart Crafts yarn Alpaca Blend.
I was sent a few samples as well as a Martha Stewart Knitting and Weaving Loom set.
The yarn is delightful! I will definitely be getting more!
The loom set is wonderful! It is so versatile and easy to use! I can easily see this being my new go to loom!
I am planning a little video review, along with a fun little free pattern some time in the next few days.
So keep an eye out for that and more squares as well!
Resistance is FUTILE! You will be i-loom-inated!!