I got this lot of items done up for my cousin Kayleen and she picked it up today!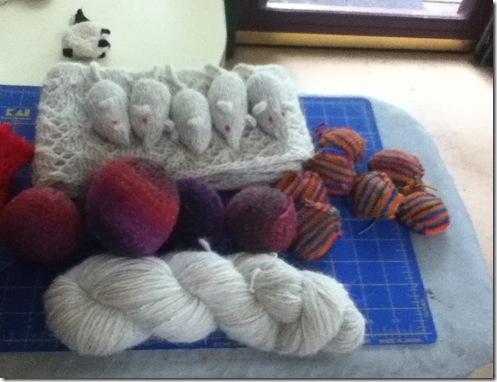 That' skein of yarn was spun up by my friend Ashley! (thanks Ashley!) from the alpaca at the Akron Zoo, where Kayleen works! The mice are made from it and the infinity lace scarf they are sitting on!
The balls are made out of some yarn I had laying around it's a soy blend. It's a good thing Kayleen picked them up because my cats kept stealing them! The stripey toys are hexipuffs that I made at district conference! The one lady at my table said they would be perfect cat toys so I figured I would add them to the lot! You can't really see the red magic scarf I made it's off to the left. I made it with my new knitting machine! It took two tries but it worked out!
Of course Kayleen didn't come empty handed! I have a nice lot of yarn that she brought me! That'll keep me busy for a while!
Thanks Kayleen!!