Well.. where have I been? Just like a lot of you busy with holiday stuff and so on! But I have been knitting!
Thanks to a generous person, I have a copy of Jess Hutchinson's booklet Unusual Toys to Knit and Enjoy! I had a copy years ago and gave it away in a Katrina fundraiser.. and have missed it ever since!!
But now I happily have it! So I knit knit knit and I have some toys ready for someone to enjoy!
First up Spherey: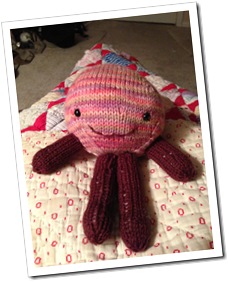 He is so cute I am knitting a second one now! One to keep and one to give away!
Then there is Henry the Bear!
He was too busy checking out Peter Pan to pose nicely for me.. I think I need to not let him read Peter Pan he is getting a little cheeky!
Let's see I have also finished a simple cowl, I had knit it earlier and not finished it, basically it is a stockinet loop. Sorry no photo..
I also finished a pair of fingerless mitts for Azia.. I have to block them.. so I will show them to you later!!
Ta Ta for now!