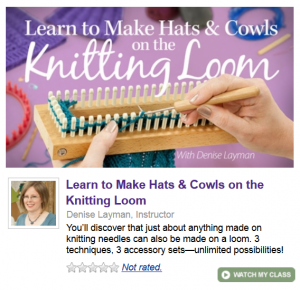 Well it's live!! I am so excited to say that my online knitting class is live on the Annie's site!
Here is part of the class description:
"Join knitting loom expert, Denise Layman while she shows you step-by-step how to use fine, small and large gauge knitting looms, which are compatible with most hand-knitting yarns. You'll learn the basics of loom knitting from the ground-up, and you'll be introduced to techniques such as: how to knit lace, produce a mitered square and how to knit cables. Yes—all made on a knitting loom!
This comprehensive class includes three quick-knit hat and cowl patterns so you can practice your new loom-knitting skills. Accessories are a great way to learn new skills because they are small and can be made quickly. As an added bonus, this video class includes all of these patterns as free downloads so you can print them and follow along with Denise every step of the way."
If you want to expand your skills as a loom knitter this class was planned to do that! I always find it nice to see the technique done, rather than reading instructions and viewing pictures in a book!