Hmmm I have nothing knitting related that I can show off this time..Again with the secret projects.. oi!
But let's see..I did this quite a while ago but don't think I ever showed it here on the blog!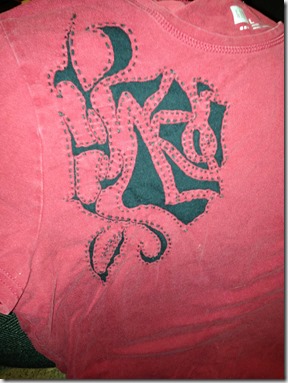 A little reverse appliqué action ala Alabama Chanin there. My favorite t shirt got a stain on it.. so this gave it a second chance!
I am pretty pleased with how it came out too!
I am soooo excited too..I signed up for a class taught by Natalie Chanin on Craftsy too! Details on it tomorrow and a great opportunity for my fellow bloggers too!
Related Links:
Alabama Studio Sewing + Design: A Guide to Hand-Sewing an Alabama Chanin Wardrobe