As you know I recently took a crochet class. Do you think this officially bumps me into the 'fiber artist' category? What with loom knitting, needle knitting, weaving, spinning, cross stitch, crewel, rug hooking, and now crochet under my belt.. is there anything left? Please don't answer that!
I think that any fiber artist could use a little crochet here and there. And so with the class under my belt, I found the need to expand my crochet book library.
Enter Crafter's Choice.. yep.. they hooked me in again! That 4 books for $1 each tempted me beyond resistance as there were some books on that list that I wanted!
The first book up is one I acquired on my last sojourn with the book club.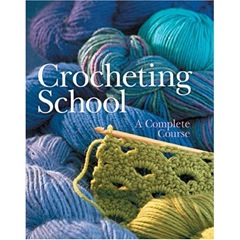 Crocheting School: A Complete Course
by Sterling Publishing is a nice book full of the basics. But I will admit it, I just didn't get it until I took the class! I am a heavy kinesthetic learner! Now, I find that it is a good resource for anyone who is starting out with crochet. You certainly can't go wrong with this book either if you are good at learning these types of skills from books. The photos are nice and the instructions clear, I apparently needed just a little more to push me over the edge!
The second book today is  The Complete Book of Crochet Border Designs: Hundreds of Classic & Original Patterns
by  Linda Schapper.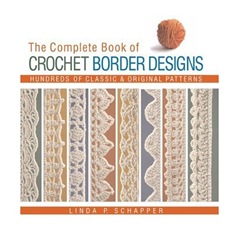 I took this along with me yesterday as I waited for Azia to do her state tests, and picked out a border for my latest little Blythe doll dress…
I can see a well used well worn book in the future! This book RAWKS! The layout is wonderful, the borders are categorized and organized in a very well thought out and sensible way.  This makes it easy to find what you want!
The photos of each border are simple, showing only the border, and clear. They are all uniform, which I also find helpful. The border patterns are given in both word, and chart which will catch those of you who like words, and those of you who work better with charts.. or those of us who just happen to like to have both readily available.
All in all this is a great book (haven't I said that already?) Who knew I could get so excited about a book with just crochet borders?
The last book today is The New Granny Square
  by   Susan Cottrell.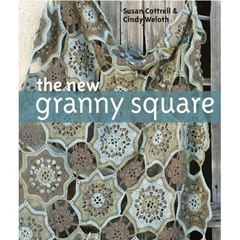 I have to admit the cover of this book caught my eye. I have to also admit that this is the first time I have anything negative to say about a book in a review!
The projects are great! That throw on the front beautiful, and the other projects are very nice, I drool over the woven rings square! So I give the projects section two thumbs up!
The problem comes with the photos of the individual squares in the 'instruction' section. They are done up in various yarns, many of which are variegated or novelty yarns and this makes it very difficult to see what is going on in the square.  Personally I like to see what is going on so this is a great distraction to me. Of course I am comparing this book to the borders book where everything was so simple and clear, so you might want to take this with a grain of salt!!
All in all, I think my crochet library is shaping up!
What go to books do you use for crochet? Inquiring minds want to know!