Make me open the Knitters Book of Yarn for some totally unrelated reason.
That will get me turning pages.. just cause it's a page turner…
Then  I will realize that I have enough yarn left over from my vest to make a set of Maine Morning Mitts.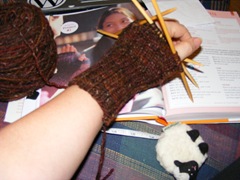 So I will cast on, and totally forget anything else I was working on…
I sure hope that it stays warm down there in North Carolina..
Sorry Shephard.. I did it, I set down your little sweater again! I just can't help myself! You're as forgiving as you are cute right?