Well Azia is still down with the pox. So things are slow around here. It was my b-day yesterday and  I got to spend the day playing hooky from church with Azia, knitting and trying to keep her fever down. The boys had gone out with Brian the day before and got me some gifts.. an audiobook set .. Sue Grafton ABC Gift Collection: "A" Is for Alibi, "B" Is for Burglar, "C" Is for Corpse
 so I can knit and 'read'; and Microsoft Windows Vista Visual Quick Tips
.
Then Brian made some De-li-cios lunch! SOO good. A little known secret about him is that when he just throws something together.. 99% of the time it's absolutely wonderful!
I spent a little time surfing the web too and found these!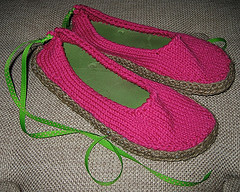 A great way to recycle flip flops that are worn out.. or for me.. new ones because I can't stand flip flops! The pattern is so easily transferred to a small or fine gauge loom I thought I would share! I think I am just going to have to try it out! It's also a great way to get a pair of flats in a custom color, and just all around fun!
Tommorow is How-to's Day so look out for that tutorial on knitting I-cord as you go on the loom. I have the cast on edge and the sides covered, now for the cast off! See you then!!
My Monday Motivation list.. just to keep me honest!
Today:
1. Exercise for 20 minutes
2. Get my how To's-day tutorial done
3. Get my daughter's fever down!!(Chickenpox!)
This week:
1. Get remainder of my 30 day blog goals done.
2. Two more exercise sessions.
3. Make a plan for end of year school work for kids.
4. Get my zucchini and flowers planted!
5. Catch up on laundry..
What a housewifely list!
The carrot. A $100 allowance to spend at this weekend's fiber festival! WOO HOO! Keep me honest!