The cable guy came, he saw, he conquered even though our steps nearly killed him.. an now we have a nice new faster modem!! Back in the saddle again! This has been a busy week!
The two oldest were at camp so it was also a pretty quiet week as well. I got some knitting done on my Pi shawl the lace is working out so far with only pulling back a few rows so far. Then I had to get started on a test knit so the shawl is back on hold again. The mail this week brought two new knitting boards! One to replace my old one that had an untimely end… and another fine gauge board that was a surprise.. Thanks Lynn!
Isela had a big week too with her Knitty Gritty episode airing on Monday. And it took till the second time I watched it (with Azia after she got back from camp) for me to notice that my vest is in it  as set dressing!! I had sent a few items along for them to use at Isela's request, and hadn't noticed it when I watched it the first time! But there it is just over Vickie's shoulder my Bolero vest!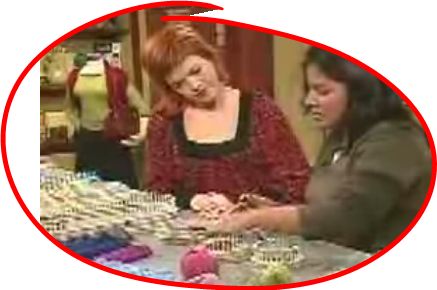 They make it look so good! That was a pleasant surprise! It was so fun watching the episode with  the kids they made all kinds of funny comments.. like "Yeah it is easy!" and " Isela looks different than when we met her!"
Anyway I am trying to wrap up the editing for the episode of Yarnival due out tomorrow. Some fun and interesting posts!