Well, when in Lake Tahoe Lynn Markman gave me a little present!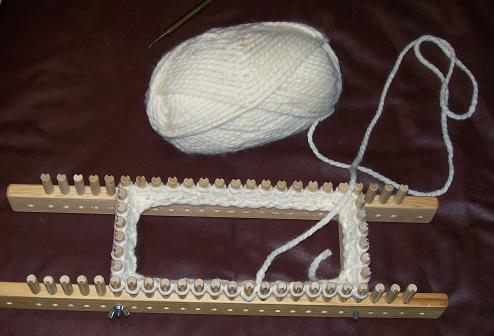 So I am playing with it a bit! I am trying to follow this pattern** on the loom. I think it will work out! I will let you know! Stay tuned!!
Lynn is also starting a Sock loom along using the pattern from my book! SO if you want som sock support stop on by her Sock-it-to-Me-Loomers Yahoo group and join the fun!!!
BTW I have not forgotten my winners in the Where in the World is the Loom Knitter?? contest.. I will be getting packages out Monday or Tuesday! And a little housekeeping.. there was someone who emailed me interested in my oval sock knitting loom before I left.. the email went AWOL! Please contact me again!!! I would love to get this loom out of here .. it is just not getting loved here!!!
*A little… you know like Eine Kliene Nachtmusik ?
**This is a Lion Brand free pattern, I think you have to sign up to view them, but hey the newsletters are nice if you are not signed up!