I recently purchased a copy of Going Straight by Ruth Paisley aka Wooly Wormhead on Lulu.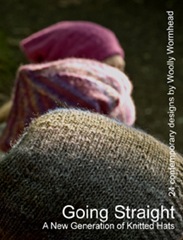 Buying books through Lulu is nice because  you have the option to buy the book as a pdf and download it or buy it as a regular book with various binding options. To top it  off the packaging the Lulu does is genius! It would take 10 rampaging rhinos to do any damage to the item inside! I was impressed.
I saved up a bit because I wanted the spiral bound copy of the book. I dunno, I just rather have an actual book in my hands. The book itself is beautiful!  Wooly Wormhead  does and excellent job laying out all the necessary techniques needed to accomplish the patterns in the book with beautiful large bright photo illustrations.
The hat designs are lovely and actually quite impressive as all of them are knit on straight needles. I have always loved  her hat designs, they are creative and fresh and fun. The designs in her book are no exception.
I highly recommend this book to anyone who is interested in making hats but is circular or double pointed needle phobic!  And if you would just like to try out one of her designs, then you can also go to her website and pick up a pattern or two there, there are even a few for free!
Enjoy!