What's a girl to do on a Saturday? Sigh.. boring stuff I fear.. Well mostly boring.. but necessary! Gladly my desk is now clutter free due to a long overdue trip to Staples for a corkboard and some wall pockets for the kids to put their school papers in!
Now I I could only unhinge my stapler I would be able to staple up some little pockets on my corkboard to put some other things up there..
Now the day was not entirely without fun!
I bought some fun knee socks!
Found just the right boots I have been looking for..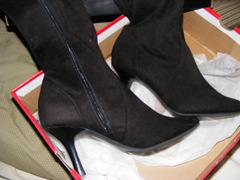 And got a Saturday sky shot!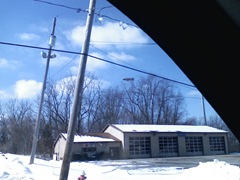 Can you see the blimp?
Tune in tomorrow at 5:30 EST for another episode of Knitting 911! I will be on for a half an hour so stop by and give me a call.. you can get there by clicking on the my profile link in the Blog Talk Radio widget on the sidebar! Hope to see you there!