I have picked up a few cook books recently and thought I would share a few with you since some of them are sincerely drool worthy!
I openly admit that I am a Yankee through and through! In fact when The Knitting Wannabe holds her annual Sticks and Grits contest I scratch my head and say WHAT ARE GRITS!??? This year I asked her.. yep I'm that ensconced in the northerly ways.. So when I had the chance to get a sneak peek of the book  Screen Doors and Sweet Tea: Recipes and Tales from a Southern Cook
 I jumped at it. With 248 pages, this is not only a great cook book it is a book full of tales of a southern cook! So you get a boat load of great recipes, and some great stories to read while you wait for your cobbler or cornbread to cook!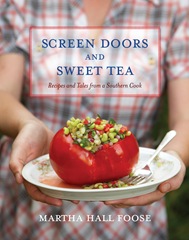 Let's just say that this household is going to see a bit of a cultural cuisine revolution! There are many new to us foods that need to be tried from our southerly neighbors. Who can resist such recipes as Barq's Root Beer-Glazed Ham? (I meant to try that one on Easter Sunday but it didn't happen!) or Proper Fried Chicken (that one looks absolutely delicious!) Then there are the tried and true southern dishes that have never seen a plate in this household.. Gumbo Z'Herbs and Tabbouleh and Fried Okra.. If I can find the ingredients you know I will be giving them a try! If you are looking for some new delights in the kitchen you might just want to pick up a copy of this book!
The book is coming out at the end of April but you can always pre-order so it will hit your doorstep ASAP!  If I try some of the recipes over the next couple of weeks I will let you know how they turned out!