A while back I showed you all a stack of books I had planned to go through. Well I have gone through some of them, gotten a few more in the interim and gotten back to the stack. (especially since I have moved them all downstairs so they are right here behind me!
SO back at it. I have finally gotten the time to take a closer look at Debbie New's book Unexpected Knitting
.
In fact, it is what inspired me to finally commit to a project with my Briar Rose Yarn. I am working on the  vest. I plan to try out a few other projects as well. As soon as I dig up my super duper extra long Addi Turbo circular, I will try a labyrinth sweater. These things are genius. You only knit a few VERY VERY VERY long rows. and with a few well placed miters.. well you get a sweater!
I think what really influenced me to get back into this book was the lovely Labyrinth walk out in the courtyard of the church where my knitting guild meets. It made me think of that sweater and the book. And now that I have been playing with Miters on my knitting looms I am quite interested in them. (But I don't know if a labyrinth sweater I quite in the future. on the looms.. though…)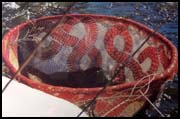 Debbie explores territory that many of us would never dream of.. like knitting a boat!! (thankfully we just got a new canoe) and knitting teacups!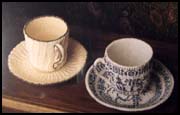 Debbie's take on approaching knitting projects in this book is refreshing and uplifting. It jogs the brain and gets the juices flowing! She opens the doors to knitting exploration and takes you right in!

So if you are looking for a book that blows your mind and gives you a million and one ideas! Well look no further!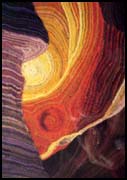 Now it seems to me about two weeks ago I offered a book in a givaway.. ya'll aren't waiting to see who won are you? Well the book is still sitting on my night stand.. waiting to go to it's new home so it will go to.. Michele!!! Who Looms in Tuscon!!
Congrats I will try to email you and get this book in the mail tomorrow!!
And no.. you can't pry my loverly Unexpected Knits out of my hands.. even if they were cold and dead!!