Got an umbrella with a broken handle? A pair of pants with a hole in the knee?  An old out of style suit? A bunch of plastic shopping bags?
Don't throw them out! Turn them into some great bags!!!
 Refashioned Bags: Upcycle Anything into High-Style Handbags
by Faith and Justina Blakeney is a fun book full of great recycling and upcyling ideas to make bags out of just about anything!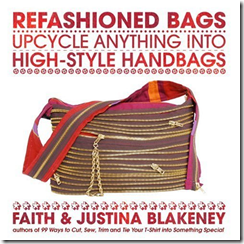 The directions are clear and easy to follow. They have included a lot of great illustrations to help with constructing the bags!
Peppered throughout this book are bio's of other bag designers who use interesting recycled materials to create designer bags!
Overall this is a terrific book. If you are interested in making neat unique bags you will love it!
Disclosure: A review copy of this book was provided by the publisher.