Well I was surprised to see a book review this morning for a new book out by Elizabeth Zimmerman, Knit One Knit All
! Wild, especially since she passed away in 1999!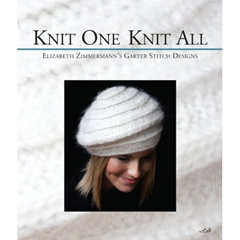 It looks like a good one. One I will definitely be picking up soon. I expect another nice $5 Amazon card from my Swagbucks winnings very soon! I love picking up books for less or for free this way!
This book looks like a typical EZ book! All knit all the time! I will give you my own review once I get it, but for now Clara Parkes wrote a great review of it at Knitter's Review.. remember that site.. you know the place we went before there was Ravelry?
Bonus book.. this one isn't out yet.. but I am already drooling! The next installment from Natalie Chanin of Alabama Chanin is due out next spring. Its called Alabama Studio Design But if you preorder *cough*  my birthday is tomorrow *cough* then you get it delivered on it's release AND you get a nice free Alabama Chanin gift with it! I don't know what that gift is but hey.. I'll take it!!