So I showed this striped shawl the other day.. that was one of my commissioned pieces!
I made it for Authentic Knitting Board to be included in one of their kits.. you can find it here: Harvest Lace Shawl Pattern Kit
The pattern is there for download as well. I liked it so much I will make another one.. which is going to be a prayer shawl! One of these days I will also make one for myself!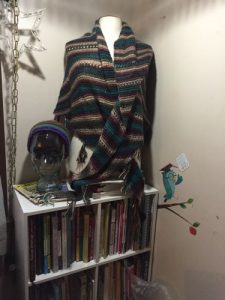 That shelf is part of my new crafty work area.. I am awaiting the big piece to finish putting it all together! I pre- ordered a Workbox 3.0!! I can't wait to have it set up completely and have a lot of my stuff organized in one place! This little shelf is a good start. Now I finally have all my knitting books and magazines together!