Recently one of my favorite designers, Natalie Chanin, had a garage sale on her website. I have sewn a few pieces before, based on her designs, and have even done a simple skirt from one of her DIY kits and enjoyed them thoroughly!
Well, the garage sale was mostly for finished pieces, and I even popped on in the cart one day, but didn't get it. Then after the second day, I realized that there were also DIY kits and materials for sale! So I snagged a t-shirt kit!
Happy happy joy joy! (and quite a bargain too!)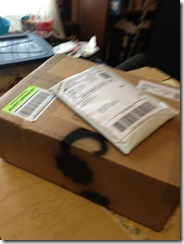 If you have never gotten mail from the Alabama Chanin company, well just the package is a treat! The boxes and envelopes are all stenciled!! And you feel as if you are opening a present!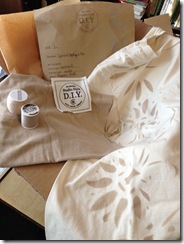 So there was the kit waiting to be sewn up and cut up!!
My design choices:
Reverse applique, backstitch around the stenciling, knots on the outside.
I did knots on the outside as a sort of homage to Brian's Grandmother. She was always going after us for little stray threads on our clothes. It was if she had a sort of sixth sense for them! No straggling stray would escape her sight, out would come the scissors and off with it!
So having the knots on the outside.. well that would just drive her crazy now wouldn't it.. No.. I really liked her!!! I just like to have a spot of fun with people!!
So on to the sewing..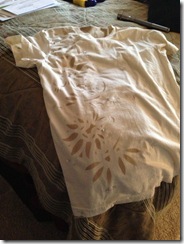 First pin the backing material behind the stencil part!
Then, backstitch around all the flower shapes..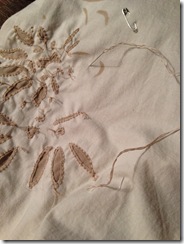 And cut out the centers to reveal the backing fabric.
It took me about two nights to do the main shapes, and another two to do all the fiddly bits, and cutting and securing the backing fabric.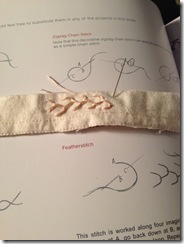 Then a little practice on the stitch I wanted to use on the neckline..
Cut out the old crew neck and pin in the fabric cut from the bottom edge of the shirt in it's place!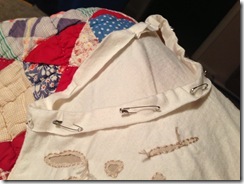 And then finally once that is all done, time to sew in the label!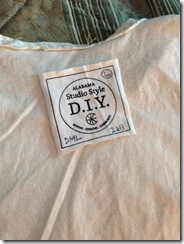 And…. voila! She is finished!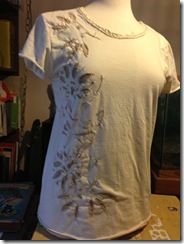 I will have to share some photos, of my other pieces.. the ones I have sewn, and my rescues off Ebay! Some how most of them have been in the same color scheme, so it's nice I can mix and match a bit now!
I had a request a while back for how to make log cabin squared on  a loom. I thing I will get that going.. but as you will see from tomorrow's post I have a little something to get cleared off my 'plate' first!