I would love to show you all a nice photo of a finished sweater.. in fact I have had the parts done for a while now, but the weather has been so rainy there hasn't been a good time to block it! I like to block my pieces on the back porch so they don't get bothered by any pets, and don't bother any people!
So here are the parts..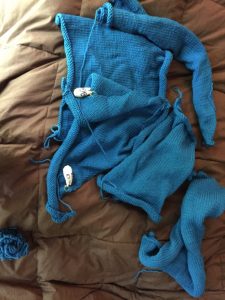 The sweater is Sanpoku  a pattern by Norah Gaughan available from Berroco! I am using KnitPicks Wool of the Andes in a pretty blue. I am hoping it will be a nice throw on sweater when summer evenings are cool!
oh.. what are those little white creatures you ask?
Those are two of a set of stitch markers made for me by my dear friends, Debs and Errol! The one with the glasses is Errol!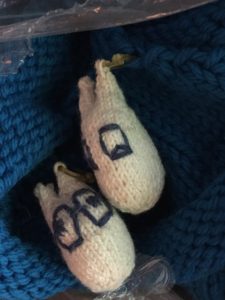 They are chibi Totoros from My Neighbor Totoro the movie!
See Debs and Errol I do use them!! It's always fun when a knitter knits you a gift, and these are treasured!