For Easter I sported a new knitted top that I LOVE!! Francisca is a pattern by Christopher Croucher and is a nice flutter sleeve lace weight top!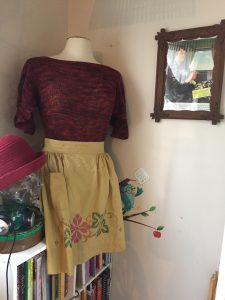 So comfortable!!! I made it up with one of my favorite yarn brands Briar Rose their Angel Face lace weight which fits it's name to a T! 100% alpaca soft and warm but not too warm for a nice spring to summer top!
Despite being lace weight.. you double the yarn.. it was a quick and easy knit, and I highly recommend it! you can find the pattern here, or on Ravelry!
I will have to pop up a beauty shot later! The weather was not cooperating for a good one.
You also get a sneak peek at part of my new work space! All my knitting and crafting books in one place! and a great spot for my knitting 'models' Hattie and Sugar!
All with my muse Eleanor close at hand!!