I just finished listening to  the most wonderful book I have had in a while. The Guernsey Literary and Potato Peel Pie Society
  is as interesting and delightful as it's title leads one to believe! I loved every minute.. even when I realized my iPod was on shuffle it didn't really matter. I was able to follow the story, as it is all in the form of letters, and other correspondence between the characters!
Set just after the end of WWII in London England, the story tells the tale of an unlikely group of people who form a literary society amidst the war. Juliette, an author who lives in London, receives a letter from Darby, on the Island of Guernsey. He had found her name inside a book he had bought after the war,and a simple letter of inquiry about the book and it's author quickly  turns into a flurry of correspondence from himself and others of the Literary and Potato Peel Pie Society and Juliette. After all who wouldn't want to know more about such an oddly named group?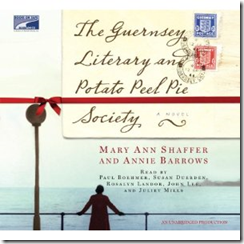 I liked it so much I want to give you a chance to have a listen too! So please leave a comment letting me know what great books on tape or regular books you have read lately if you would like to win the audio CD set of this book. I will draw a name on Sunday afternoon! Please be sure to leave an email where I can get in touch with you if you should win!
Disclaimer: A copy of the CD set was provided by the publisher.