Well my finished Friday post didn't pan out. So now I have a bonus finished project for you!
First up, my Rustic Autumn Shawl: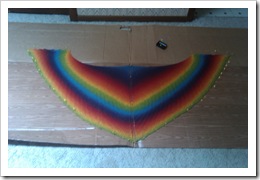 Well.. mine is not so autumn-y it is more summery with the rainbow yarn!
The details: This is a needle knit, the pattern can be found here: Click here
Yarn: Kauni Strikkfasthed 8/2
Colorway EQ
Bought at The Clay Purl in Nashville IN
Knit up on my Addi Turbos!!
I used exactly one ball of yarn, and had about 24" left over!! YES!! NO LEFTOVERS!
This was an easy knit, anyone who is a beginner with shawls should try this one out!
Love the pattern!! It was a fun knit!
Next up: Elisabeth's Cowl from Wendy Knits Lace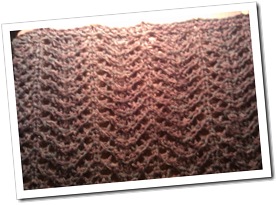 This is one of the introductory patterns in Wendy's new book. An easy lace knit, even I didn't make any mistakes on it!! Which is impressive!!
I have it pinned up on a piece of cardboard to block right now, I need to get some 'action' shots of these!
Yarn: Lion Brand Wool Ease. (not sure of the color it is variegated browns very pretty)
The pattern can be found in the book Wendy Knits Lace
This is also a needle knit, I am happy to say that this lace pattern is an easy one to do on  a knitting loom! No translation needed other than for a K2Tog, move your stitch to the right and for a SSK, move your stitch to the left!
And of course you want to keep your stitches LOOSE when working lace on a loom!
I have leftovers. Grr. It tool less yarn than the pattern called for.
I would definitely knit this one again it's a nice easy fast knit. I made it in two evenings!
I will give it a try sometime soon on the loom!
I am playing with some small projects on a new loom, I will give you all some more information when I get a thumbs up from the loom maker!! So look for that soon!