If you hadn't seen it, Authentic Knitting Board had an afghan contest!
The winning afghans were beautiful.. as I am sure were all the entries!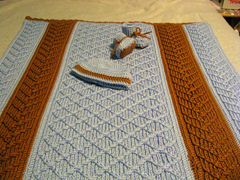 AJ's Baby Blanket by Connie Mauger
Connie.. you can come on over and put in a pattern at Loom Knitters Circle any day! Woosh this one blows me away! BEA-U-TI-FUL!
There was a tie for second place: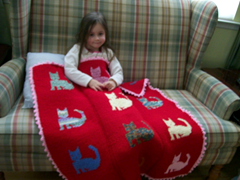 Kitty Afghan by Annette Roa
This one is so super cute! I could see it as a nice stash buster too, a different color for each cat!!! Lovely!!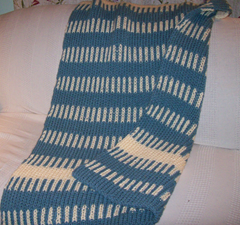 Stripes Afghan by Ella Roby
I love the striping design on this, it reminds me of a Native American blanket. Very very nice!
The awesome thing about these is since they are double knit on the knitting board they will look just as good on the back as they do on the front! That is so nice!!!
I have linked to the PDF patterns of these afghans so you can go see how to make them! So just click on the name of the pattern and it will take you there!
Next week some fancy slip stitching designs!