I have been reading The Hunger Games series along with my two oldest children. The books are quite good, I am through them all. We are all looking forward to going to the movie as well.
Last week Azia and I went to the book store to get the 2nd and 3rd books for her for her birthday. While we were there we looked through the illustrated movie guide book. While thumbing through it I saw a photo of the actress who plays the main character, Katniss, in a really nice knitted blue cloche. I thought COOL! I am going to knit a Katniss hat so I can wear it to the premier of the movie and be the coolest mom ever..
So I looked at the photo, made a quick analysis of the hat design, pretty simple looks like it's made with Lion Brand Homespun, yeah I can to it! Our next stop was JoAnn' Fabrics of course (hey don't look at me that way we WERE going there anyway! Azia wanted some zebra stripe fabric!) So I picked up two skeins of the proper color (it was on sale AND I had a coupon!) and took it home.
I sat down and figured out an initial pattern plan, and started knitting.
I wanted to verify a detail on the photo of the hat so I went online to see if I could find it.
I did.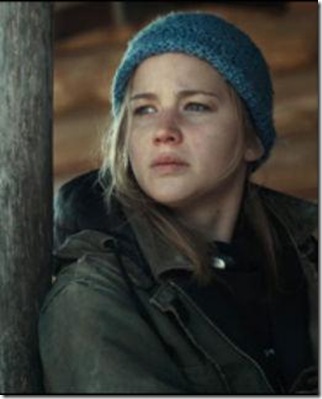 My excitement deflated like a popped balloon when I realized the photo was not a picture of the actress as Katniss.. NOPE! It was her in her role in the movie Winter's Bone (also an excellent film, though a little dark)
Well DRATS!
I dropped that hat like a hot potato and didn't pick it up for days, nearly a week in fact. But then I decided to pick it up again and finish it.
Here is is: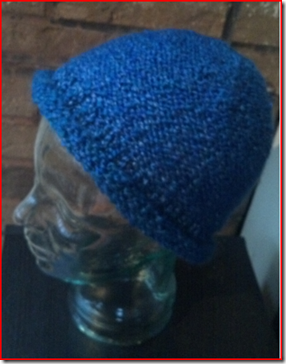 Waddya think?
I am going to finalize the pattern for needles next week, and also work on a loom knit version.
Once the pattern is up for sale I will be using $1 from each sale to go to Art Feeds. This is an organization based in Joplin, Misouri that helps kids through art. They were there both before and after the tornado and even after when they lost everything as well. there picked up, carried on and helped in the way they knew best by using art for the kids to work through what happened to them.
Having seen the destruction first hand, I have been looking for a way to help out.
The rest of the sale will go toward me attending a training session for Brethren Children's Disaster Services.
I think this is fitting because both Winter's Bone,(which took place in Missouri) and The Hunger Games are stories about kids who by their circumstances have lost much but persevered, and made their lives better, but in real life no kid should have to do that on their own. So I'd like to help.
So please look for the patterns next week. I hope to have details about the charity when I find it, and help me make a difference!