A friend of mine, Anna, from my local knitting group is planning on walking in the Breast Cancer 3 day this year. I have created a  button on my sidebar and hope that some of you will consider supporting her, and donating to this very important cause. She'll walk 60 miles over the course of three days with thousands of other women and men. The net proceeds will support breast cancer research, education, screening and treatment through Susan G. Komen for the Cure and the National Philanthropic Trust Breast Cancer Fund.
To that end.. all the proceeds from my  pattern sales in the month of April will go to support Anna's efforts!
Please, spread the word, and if you would like a button to put on your blog or website email me at Denise at Knitchat dot com and I will be glad to give you the code to do that!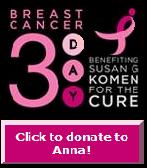 Look for a new pattern some time this month!!