Saturday was A Knitter's Fantasy. It is a local annual event with knitting classes, a fashion show and market.. as well as a swell swap table!
I taught two classes. In the morning I taught learn to knit on looms, and in the afternoon I taught learn to knit on knitting boards.
Well on Thursday I had arranged to meet a few of my knitting peeps at a local strip mall at 7am so I could ride with them. Saturday morning came and I woke up at 7:10!! I quickly found my phone and called them and they said not to worry they would pick me up because I was on the way.. I had 10 minutes to get ready..
Fortunately I had everything packed up and ready to roll. Brian had picked up some nice breakfast buns and some Mountain Dew the night before.. and he even made me some coffee! After switching shirts and shoes twice( I won't tell you what I stepped in..) barely brushing my hair and consulting them with directions twice we were on our way..
After getting slightly lost (nothing we couldn't handle) on the way we arrived! At the registration table.. they couldn't find my one teaching packet! Yikes! They looked through the box twice and then suddenly after just looking the booklet over and figuring out where my classes were, the thing appeared in the box!
I then figured out that my first class was at 9 when I had signed up for 9:30.. oh well. I was a little late. The class went well and at lunch I went to the market.. after all they gave us some 'funny money' as a reward for teaching the classes..
In the market I ran into my old boss and an old co worker who had come out from PA to check this thing out! It was nice to see them! (Hi Toni and Marge!)
I also got myself this: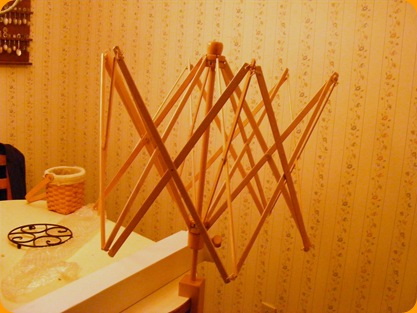 So in the end though some odd things happened it all turned out well!